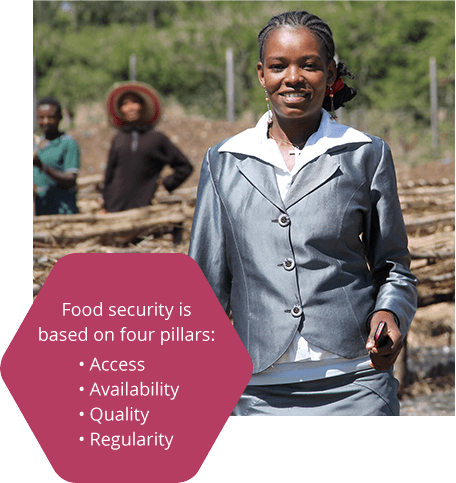 Who We Are
SOS SAHEL is an African-born grassroots organization.
SOS SAHEL was founded in Senegal in 1976 by President Léopold Sédar Senghor after a period of extreme drought in the Sahel. With 40 years of experience, we now act in 11 countries throughout the entire Sahel region from Senegal to Djibouti. Food security and nutrition lie at the heart of our actions. Our programs cover all the aspects that contribute to sustainable, social, economic and environmental development for the most vulnerable populations of Africa.
Our mission is to improve the food security and nutrition of rural communities in Sub-Saharan Africa.
The initiatives of local people are the driving force behind all of our actions. In each of our programs, rural communities, farming families and local entrepreneurs are the key program implementers. Supported by SOS SAHEL's expertise and approach, they identify their needs and their priorities and work every day to realize their projects. SOS SAHEL is made up of about 400 people; and 95% of them are based in the field.
As active program implementers, we do not call these people beneficiaries; instead they are "actors".
They are the active agents of their own change!
SOS SAHEL coordinates a network of local groups, regional offices, national governments and international organizations to further diffuse knowledge and best practices, and to advocate for the needs of civil society organizations in the policy development process on an international scale.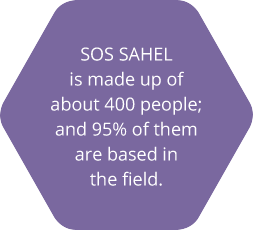 African knowledge and African initiatives are at the heart of SOS SAHEL's actions. With more than 1,000 actors, the goal of our network is to support and strengthen rural communities and their capacity. Our priority is to meet food security challenges by developing, sharing and disseminating experience and knowledge directly from the field.
We also work with an extensive international network of local actors, private partners, research organizations and institutional partners.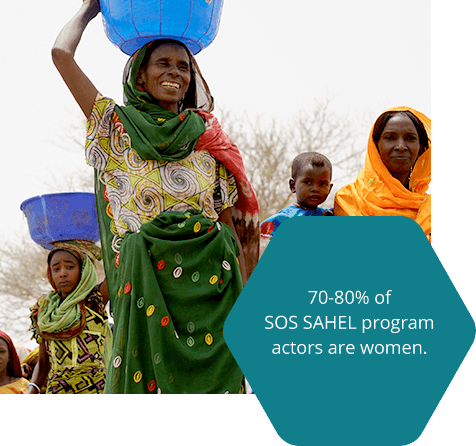 1972-1973

The Crisis

Severe droughts hit the Sahel causing an unprecedented food crisis: more than one million people died of hunger in West Africa.

1976

A Solution

SOS Sahel was created, with the support of President Léopold Sédar Senghor, in order to respond to the massive food emergency in the Sahel.

1984

Tragedy in Ethiopia

In Ethiopia, a severe drought resulted in over a million deaths.

2000

Development Goals

The Millennium Development Goals were adopted by the United Nations. The first of which is "eradicating hunger and extreme poverty."

2012

Emergency in the Sahel

Another drought leaves nearly 20 million people in the Sahel in an emergency situation.

2016

The Next Chapter

On the 40th anniversary SOS SAHEL launched the Food Security and Nutrition Initiative 2025.
AÏCHA , FARMER IN DJIBOUTI "OUR GARDEN PROVIDES FRUITS AND VEGETABLES TO THE SCHOOL CANTEEN"

"My name is Aisha and I live in Randa, Djibouti. In our village, we are lucky to have a school that can accommodate 500 children. The mothers of the village created a garden to provide fruits and vegetables to the school canteen. Unfortunately, it is very difficult to grow good products throughout the year, due to the heat and lack of water. Despite our efforts, we managed to supply the canteen at only 30%. Thanks to SOS Sahel, we have been trained and are better equipped. The area of ​​the garden has since doubled to 10,225 ft2 today. Today we produce over 70% of fruit and vegetables of the canteen and the food is better."

MARIE, FARMER IN BURKINA FASO "BY RAISING GOATS, WE GUARANTEE FOOD SECURITY FOR OUR FAMILY"

"My name is Marie and I live in the town of Bogandé, Burkina Faso. With my husband, we are farmers. However, as the climate is very harsh, it is often risky to rely only on our crops to live properly throughout the year. Because of droughts and floods, our fields can sometimes be completely ravaged. This is why we decided to complement our business by raising goats. SOS Sahel first allowed us to buy a first torque to develop our small flock."